With the new Bilton AIR series, Bilton is presenting innovative and avant-garde ideas that will revolutionize the future of LED lighting. This is achieved through a progressive hybrid solution. The new Bilton LED module series Bilton AIR is a highly flexible silicone hose and, in addition to protection class IP67, guarantees top light quality, effective heat dissipation and is resistant to external influences (UV, salt, chlorine, etc.).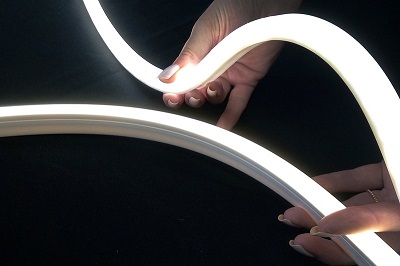 Top features:
• IP protection IP67
• Flexibly shapeable
• Lighting upwards or sidewards
• Max. module length up to 5 meters
• Luminous flux up to 1,000 lm/m
• Voltage 24 VDC
• CRI >80
• Light color available in 2,700, 3,200 and 4,000 K
The LED strip light is flexibly shapeable. There are two versions of the Bilton AIR SIDE - with lighting from the side, and the Bilton AIR TOP - with lighting facing up. Both model versions are available in 3 different light colors. Bilton AIR bends in every direction, making the LED strip light perfect for any application – indoors and outdoors!
We are showcasing real innovation at Light and Building 2018. The hybrid solution of the Bilton AIR series realizes the novel design of a completely encapsulated LED strip light. Come along and see the innovations for yourself. We want you to go beyond the limits of feasibility and, under our motto "The Art of Linear Lighting", we want show you inspired and versatile works of lighting art that can be achieved with LED modules.
Come and see us at our Bilton stand: AG.0 / B10 and immerse yourself in different worlds of light that will illuminate your senses. Let yourself be inspired by the versatile possibilities that can be achieved with linear LED modules – in architectural, technical and artistic terms.
Source:led-professional.com